Specialist project management, procurement and engineering services
ICARE Energy is a Project Development and Advisory Group established to build on the strong growth in the power sector in the Middle East, Africa and other selected emerging economies.
The group is specialised in providing high quality and affordable power equipment as well as fast track, creative power solutions, including the associated financing. The partners have been directly involved in on-site project development and local project execution.
More...
CONTACTS
Max Abitbol
max.abitbol@icare-group.com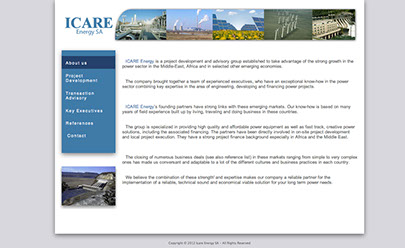 Visit the Website
© 2018 ICARE - Rue Faucigny 5, CH – 1700 Fribourg - Switzerland